General Sir Peter Cosgrove announced as Buildcorp Foundation Patron
The Buildcorp Foundation is delighted to welcome General Sir Peter Cosgrove AK CVO MC (Retd) as our new Patron.
The patronage position will support the Buildcorp Foundation's ongoing work with corporate, community and government partners to tackle the spectrum of our mental health crisis. In his first duty as Patron, Sir Peter made the official cheque presentation for the Foundation's 2021 donation of $200,000 to Lifeline Australia, which was accepted by Lifeline International President and Lifeline Australia Patron John Brogden AM. The Foundation has now donated $1.2million to Lifeline since 2015, which has helped to support over 31,000 people in crisis.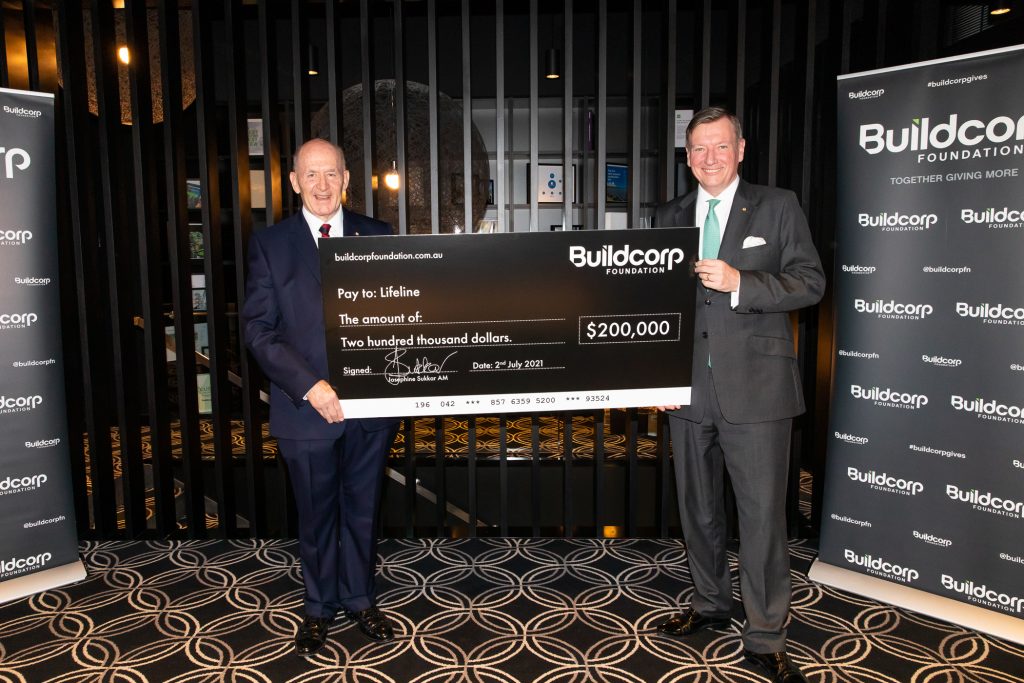 Sir Peter is a significant public figure from his work as a decorated Defence Force Chief, former Governor General of Australia and, in more recent years, supporting community rebuilding and resilience efforts. Sir Peter's honours include the Military Cross (MC) for his leadership in Vietnam in 1971, the Companion of Order of Australia (AC) for leadership of INTERFET in 1999, named Australian of the Year in 2001 and became a Knight in the Order of Australia in 2014.
Buildcorp Foundation Chair, Josephine Sukkar AM, said:
"We are honored that Sir Peter Cosgrove has accepted the patronage role for our Buildcorp Foundation. The Foundation has been operating for over eight years to amplify the collective giving power from partners in the property sectors and beyond to make an impact on mental health.
"Sir Peter's leadership in the Army, government and community is both an inspiration and a lesson in diplomacy, courage and empathy. His experience and values align with the Foundation's mission to partner with Not-for-Profit and Government leaders to deliver the prevention and crisis support initiatives our communities need to create a more resilient future."
Buildcorp Foundation Patron, General Sir Peter Cosgrove, said:
"I welcome the opportunity to support organisations like the Buildcorp Foundation who take a collaborative leadership role in addressing the important issues affecting the wellbeing of our communities. The mental health of our Nation has been of concern for some time, and this has been further impacted by the recent natural disasters and present health crisis. Suicide remains the leading cause of death for Australians aged 15-44 and every individual death impacts at least 135 people, including family and friends.
"However, there is hope that comes from our collective action. While the need for crisis support is ongoing, the Buildcorp Foundation is also committed to investing in programs that help the next generation strengthen their resilience and emotional wellbeing. These bookends of the support spectrum will give us the best chance of imagining a future free from suicide."
About the Foundation
Established in 2014, the Buildcorp Foundation has grown to become one of the top five supporters of mental health in Australia. We work to amplify the contributions of corporate and individual partners and donors to tackle the spectrum of our mental health crisis. Our impact in recent years includes:
$1.2milion donated to Lifeline to positively impact 100 lives every week
$1.25million invested in the Smiling Mind Schools program, dollar matched by the NSW Government, to deliver mindfulness and foundational skills to 140,687 children and 10,123 teachers at 445 schools. An independent report by PWC for this program highlights that teachers saw significant improvements in mental wellbeing in themselves and students. Read more here.