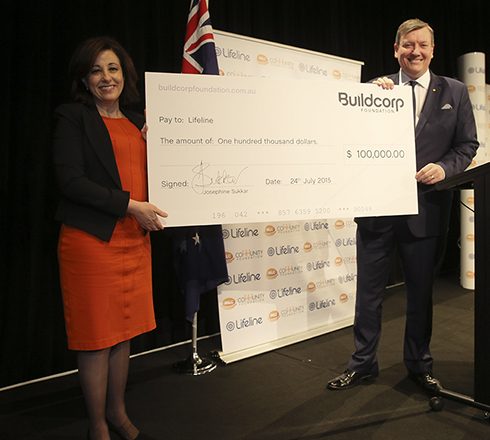 A Lifeline for mental health
Buildcorp Foundation donates $100,000 to Lifeline Australia
The Buildcorp Foundation has donated $100,000 to Lifeline Australia to help boost their 24hour online Crisis Support Chat service. Lifeline accepted the donation cheque at their annual 24/7 lunch on 24 July 2015, after the Foundation confirmed Lifeline Australia would again be the beneficiary of our support for another year.
Support for organisations working with Mental Health is important to all at Buildcorp. In Australia's construction industry, a young man working onsite is more than twice as likely to commit suicide than other young men in the community.
John Brogden AM, Chairman of Lifeline Australia: "It's fantastic that the Buildcorp Foundation has chosen to support the important work of Lifeline Australia once again in 2016. This generous donation in 2015 enabled us to support 3,600 more help-seekers contacting our 24-hour online Crisis Support Chat service.
"In 2014 Lifeline received over 950,000 calls from Australians in need, which is more than any other year in our history. Our services are under increasing pressure to help more people and prevent suicide, which is a leading cause of death in Australian's aged 15-44. Vital support through charities like the Buildcorp Foundation will help us continue our work to raise awareness for mental health services and provide lifesaving support to people in crisis."
CRISIS SERVICE STATISTICS
Lifeline's nightly online Crisis Support Chat service is just one of the ways the national charity is helping Australians going through tough times. It costs Lifeline around $27 for an Online Crisis Supporter to answer a single 'chat'. In FY15, Lifeline was able to answer more than 43,000 of 46,000 requests to chat from Australians in crisis, with an overall answer rate of 96%.
The service is providing a significant support service to the highest risk age groups for suicide in Australia, with 84% of online chat help seekers aged between 15 and 44 years of age, and the main group being 25-34 years of age (25%).
Most people were shown to improve from 'I'm feeling very upset' to 'I'm feeling ok' over the course of their interaction with Lifeline. This is a significant difference for someone who felt they had nowhere else to turn; their 52-year history of saving lives shows it can be enough to save a life.