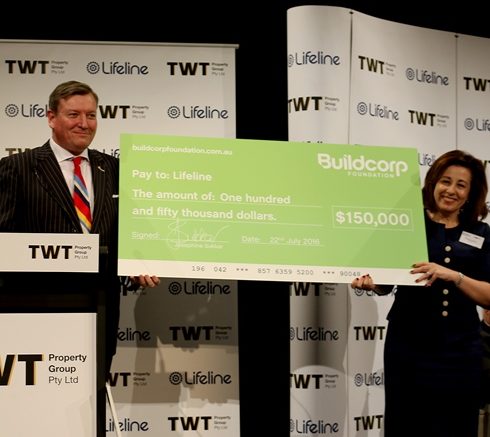 Foundation pledges more support for mental health
Following overwhelming support from Buildcorp staff feedback earlier this year, the Buildcorp Foundation has confirmed its support of Lifeline Australia for a third consecutive year in 2017. The construction industry remains strongly affected by suicide, as a young person on site is twice as likely to take their own life as another young person in the community.
Thanks to the fundraising efforts over the last year, the Foundation made a second distribution of $150,000 to Lifeline in July 2016, bringing the Foundation's Lifeline distribution total up to $250,000 since 2015.
Lifeline Australia CEO Pete Shmigel said: "The donation is enough to pay for approx. 6000 crisis calls, 2500 hours of support, 750 hours of research or 400 phones for our telephone volunteers. As such, the contribution will go a long way to ensuring more mates, family members and whole communities don't have to experience the heartache of losing someone they love to suicide."
Set-up as a Public Ancillary Fund in 2012, the Buildcorp Foundation aims to accumulate sufficient funds to enable the Foundation to financially support the community, into perpetuity. Well ahead of schedule, already the Foundation has raised $950,000 in funds and distributed $280,000 to support worthy causes such as autism and mental health.
Buildcorp Foundation Chair Josephine Sukkar said: "The Foundation's fundraising efforts have been increasing every year thanks to the work of many staff, partners and supporters. Getting behind Lifeline and mental health for a third year makes a lot of sense; committing to one beneficiary widens the impact of our distributions and builds a momentum of support from our partners. Suicide prevention and mental health remain close to our hearts and we aim to continue building a culture of support and boosting the services that help Australians in crisis."